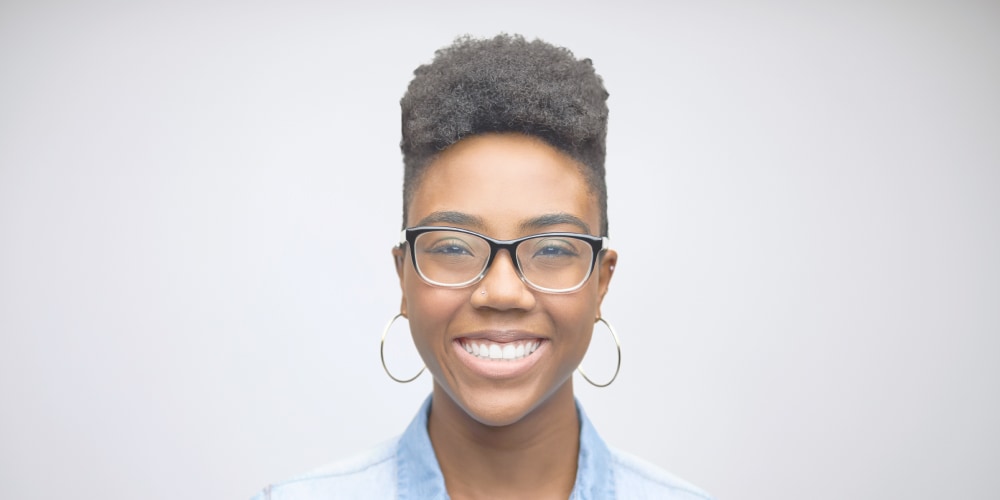 What are the best frames for diamond-faced people? Finding the right pair of glasses for your face can be difficult. It's fun to be trendy, but unfortunately not every pair of glasses will look as good on our faces as we want them to. If your face is diamond-shaped, you might be finding it challenging to find styles and shapes that look good on you, especially when there are so many options available.
This article will explain how to choose the ideal diamond face shape glasses.
Diamond face: what does it look like?
You can recognize a diamond facial shape by the smaller forehead, high cheekbones, and a tapering chin. The contours of the face are widest at the cheekbones, while the rest of the face narrows to a petite chin.
Common signs you have a diamond face
If you aren't sure if you have a diamond-shaped face, pull your hair back and look at yourself in the mirror. Pay attention to your face's overall contours, as well as the width of your cheekbones, jawline, and forehead.
Your cheekbones and jawline will probably be around the same width if you have a round face, and your face will likely be larger than it is long. A face that is oval-shaped will also be somewhat longer than wide and have a chin that is narrower than the forehead.
Five tell-tale signs that your face is diamond-shaped are:
Your forehead and jawline are almost the same size.
Your cheekbones stand out the most on your face.
Your chin is pointed
Your face is slender where your eyes are.
Your face is about the same width as it is long.
The best glasses for diamond-faced men and women are typically rounded, oval, or cat-eye glasses. For a more balanced appearance, frames with rounded rims assist soften your pronounced jawline, chin, and cheekbones. Square and rectangle glasses are also popular, but make sure the overall shape isn't too angular and harsh.
The goal of the new spectacles is to balance any face shape visually.
Your face should be somewhat rounded on the bottom half and given more width up top. Look for bigger frames, such as cat-eye or oval-shaped ones.
Here are some of the top styles of glasses for men and women with diamond faces. If you have trouble imagining what your face will look like with them on, you can try on glasses virtually.
Women's frames for diamond faces
You're in luck if you have a diamond face shape since almost every frame design will look good on you. Here are some of our favorite eyeglasses frames for women with a diamond face shape.
Butterfly glasses
Butterfly glasses are a terrific choice if you want a set that will highlight your features. The widest part of butterfly frames is at the temples, which balances off a small chin.
Oval glasses
Diamond faces look fantastic with oval glasses, commonly referred to as walnut glasses. The lower corners of rounded lens rims help balance out a diamond face.
Try a pair of oval spectacles with side decorations if you want to add more flair. These can add a glamorous touch to your appearance and aid in emphasizing your eyes. Large frames can make your face appear more delicate and smaller, but don't overdo it or they'll merely dwarf you.
Cat-eye glasses
Women with diamond face shapes should definitely consider cat-eye glasses. The upward sweep of the frame emphasizes the cheekbones, while the pointy corners of the spectacles assist reduce the angularity of the face.
Men's glasses for diamond-shaped faces
For diamond shape face men, one of the most frequent mistakes that they make while searching for glasses is only taking into consideration the more practical aspects (cost, how easy they are to clean, rigidity) not taking into consideration their face shape. Certain eyewear designs go well with particular facial forms, much as various clothing styles are flattering on various body types. Here are some of our favorite eyeglasses for men with diamond faces.
Clubmaster glasses
For men with diamond face shapes, clubmaster glasses are fashionable and timeless. The diamond face shape's angular qualities are complemented by the frames' sharp angles, exaggerated acetate browlines, and rounded lens rims, which also draw attention to the eyes.
Wayfarer glasses
The large frame of Wayfarer sunglasses will serve to balance out your features, and the rounded lens rims will aid to reduce the strong lines in your face. Wayfarer glasses started gaining popularity in the '50s thanks to their broad frame and squared-off lenses that define its timeless style.
Round glasses
While these glasses can look great if you get the right size, if they are too big or too little, they can really make your face appear out of proportion. Round spectacles can complement a diamond facial shape by softening the jawline, chin, and cheekbones that are more prominent, so make sure you pick the right size for your face.