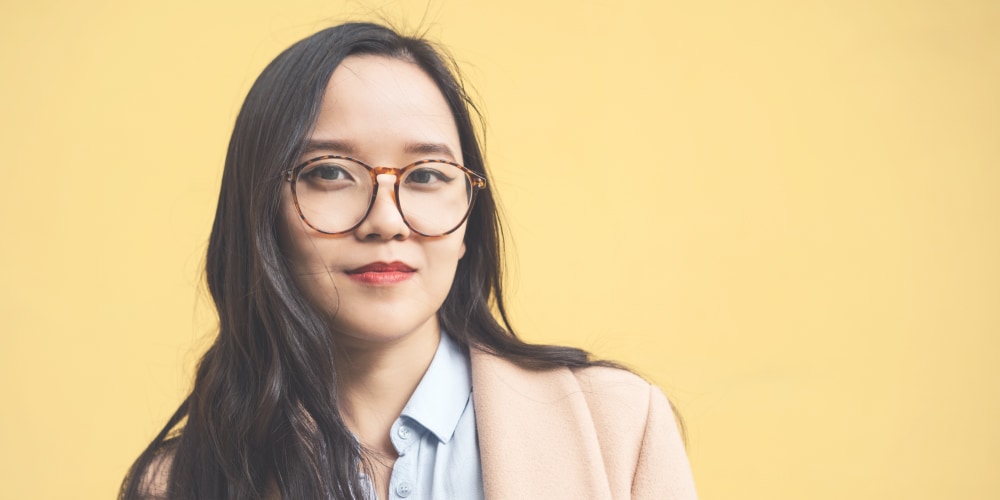 What types of sunglasses work best for those with heart-shaped faces? Not all styles of eyeglasses complement your face shape and unique style. Knowing your face shape can help you choose the ideal pair of glasses for your face shape.
When there are so many styles and shapes to choose from, it can be difficult for someone with a heart-shaped face to find glasses that suit them, but you should try to find something that is easy to clean and is flattering for your face.
Heart-shaped face: what does it look like?
Faces with a heart shape have graceful angles and flowing lines. Heart-shaped faces taper down from high cheekbones and a large forehead to a narrow chin. This face shape combines curves, angles, and lines. Accordingly, some faces are heartier and rounder than others, which are more angular and linear like an upside-down triangle.
How to know if you have a heart face
If you can't tell if your face is heart-shaped, stand in front of a mirror and use your fingers to trace the contours of your face. If your chin is pointed and your forehead is the biggest region of your face, you have a heart-shaped face. If you have a widow's peak at your hairline, it's easier to Imagine the heart shape, otherwise, you can see something that may resemble an upside-down triangle.
What shape looks best on heart-shaped faces?
What eyeglasses for heart-shaped faces look best? Although it may seem difficult to find the best frames for your heart-shaped face, Glasses.com will help you learn what to look out for when choosing glasses that complement your face. Choose frames that are slightly broader than your forehead to create a balanced portrait because heart-shaped faces are wider on top than they are on the bottom. (This strategy not only narrows a wide forehead, but it also supports chin strength.) Rectangular, oval, or aviator-shaped eyewear works best for faces with a heart shape, but if you don't take our word for it, you can try the glasses on yourself virtually even from home with the virtual mirror.
Try these classic eyewear designs for faces with a heart shape.
Oval Glasses
Oval glasses frames look great on faces with a heart shape. They aid in softening and balancing facial angles so that they more closely resemble a base-up triangular face. They also don't run the risk of highlighting your cheekbones too much as they aren't as tall as round eyeglasses.
Square glasses
As a rule, trapezoid eyeglass frames are broader at the top than the bottom, making them one of the best glasses shapes for persons with heart-shaped faces. This tapering lens design gives your face a balanced appearance by helping to widen the top of your face without attracting too much attention to your cheeks.
Rectangular
Rectangular lenses help to provide a sense of balance. If you are looking for heart shaped face glasses for men, rectangular frames are a good option. Your heart-shaped face is balanced with rectangular glasses, which minimize the width of your face while emphasizing its contours. To avoid seeming excessively top-heavy, put on light-colored spectacles with thin metal frames.
Discover all eyeglasses frames and choose the best for yourself on Glasses.com.